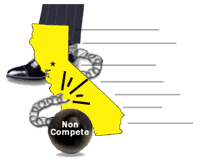 According to a  groundbreaking California State Supreme Court ruling in Edwards vs. Arthur Andersen, people employed in California have the right to start their own businesses or move to another company free from any legal interference by their previous employer. In essence, the court officially struck down the validity of the non-compete clause as it relates to employment in the State of California.
The unanimous ruling cites an 1872 state law that forbids non-compete clauses that restrict management employees from obtaining work in the same field.
"An employer cannot by contract restrain a former employee from engaging in his or her profession, trade or business," said Justice Ming Chin in the ruling.
According to Richard Frank, an attorney whose practice deals with employee disputes, the decision "advances the strong California policy favoring open competition and employee freedom. Those have been drivers of the state's economy, especially in the technology area."
Indeed, that's in keeping with a previous Harvard Business School study that claimed states without enforcement of employment non-compete agreements are more likely to have a vibrant and dynamic economy. This gem was covered last year in UsefulArts.us.
The ruling will have national implications. The decision forced the California State Supreme Court to interpret the 1872 law. Therefore, Federal courts are likely to fall in line behind the California Court's decision.
We could see a domino effect of employment mobility and freedom sweep across the nation, opening up every state to greater economic prosperity and upholding the dignity of professional work.