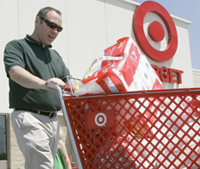 Target has settled a class action lawsuit from the The National Federation of the Blind (NFB) by agreeing to pay $6 million in damages, and to pay the organization to supervise efforts to make its website more accessible to the visually impaired.
Previous court rulings had established that that ADA did not extend to stores' websites. However, Judge Marilyn Hall Patel concluded that the ADA required removal of all barriers to "a disabled person's full enjoyment of goods or services." That, plus California's Unruh Civil Rights Act, were enough to put Target in a mood for settlement once the case was certified as a class action suit. The National Federation of the Blind made its case by arguing that a suifficient "nexus" existed between the brick-and-mortar Target store and its website to extend ADA requirements to the site.
What Does This Mean?
Judge Patels's rulings beg for legislative action to define what obligation, if any, exists for private websites to be accessible. Unlike the public airwaves, the Internet is a private medium. Expect calls for legislation both from publishers and advocacy groups for the blind.
Any time the state sets standards for communications in a private medium, there is potential either for abuse or for such standards to limit how the medium evolves. While technologies such as Flash, web video, podcasts and virtual worlds may be made more accessible to disabled users today, a broad prohibition against them in commerce would have discouraged their development.
The National Federation of the Blind's victory will likely encourage other advocacy groups both to file similar complaints, and to offer services to help companies avoid such suits. Obviously, advocacy groups would not be inclined to bring suits against those whose sites they are helping to improve.
The settlement establishes California as the preferred venue for trying such cases, and the NFB now has funding and stature to gather participants in future class action cases. This is a long way from being settled law, and I expect more cases to be filed in California before the end of the year.