Blawg Review #176 is all about legal literacy. Its host, Hanna Hasl-Kelchner, put together a fantastic array of ways in which the law and literacy are in play. Our forum was recognized for its coverage of an effort to educate kids about copyright law with court-distributed materials that were shockingly in error about the application of law punishing teen downloaders. I'm delighted that a post including cartoons and irony received this attention; this seems to be our new specialty.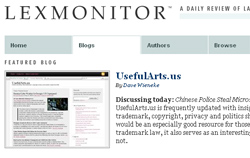 LexMonitor selected us as its site of the day from the 2,000 or so law blogs it monitors. They picked up on our coverage of a different cartoon inspiring irony: the use of Microsoft's Internet Explorer logo as part of branding for Chinese censorship police. Their "site of the day" pick kindly recommends UsefulArts to their readers:
UsefulArts.us is frequently updated with insightful posts on how trademark, copyright, privacy and politics shape the web. While the blog would be an especially good resource for those involved in patent and trademark law, it also serves as an interesting read for anyone, lawyer or not.
Wow, we're honored to have this recognition, and most of all for readers like you. Thanks for making this effort a lot of fun.