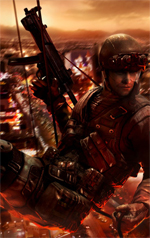 If you manufactured automobiles, you'd also likely need to make keys so that your customers could start their engines.
Ubisoft, publishers of Tom Clancy's Rainbow Six Vegas 2, recently missed the equivalent of that second step when they released their game for sale as a downloadable file on the Internet.  Unfortunately, the security program surrounding the game requires code distributed on a physical CD to run, which of course users didn't receive when they downloaded files.
The company came up with a resourceful response: they turned to the hacker world, and provided customers with code that defeats their own digital rights management security code as a patch. This would be the equivalent of helping car owners without keys to hot-wire their own automobiles. Except the simple act of using code to defeat software security, even when you are licensed to use it, is considered a criminal violation.
Ubisoft quickly realized that resorting to hacker techniques was both troublesome and a demonstration of just how futile digital rights management can be:
Needless to say we do not support or condone copy protection circumvention methods like this, and this particular incident is in direct conflict with Ubisoft's policies," a company spokesperson posted to their official forum.