As we think about taking-on inaction on larger topics, such as global warming, it is not only fair to ask "how many must die before we get serious" – it may be *the* essential question to ask. Creating a scoreboard based on the kind of studious documentation seen in substantiating the holocaust, could be the alarm bell to muster a maximal response.
I've been to my share of meetings about traffic management in Boston.  When discussion becomes heated, it is routine for someone to ask, "does someone need to die to fix this?" This escalation has always felt a bit histrionic. But it can also be taken as a transactional inquiry – what does it take to make change?
As soon as someone dies, the crosswalk, traffic light or 'slow the hell down' sign goes right up.
Given enough time, routine problems may get fixed through normal channels. But a publicized death is like hitting an attention key.  My first job, assessing concerns of child during the hours state offices are closed, was just such a solution. After a spate of child deaths, providing 24×7 expertise in child protection became a priority. Tragic deaths were exactly the focus and harm needed to make the status quo unacceptable and to make change essential.
Governments count fatalities, they are the ultimate proof of harm. They make the moving of heaven and earth a priority, once it knows this is a 'life and death issue'.
Boston's "safety shut down" of half of its subway system for around a month is a recent example of this.  We've known Boston's subway, the oldest in the US, is in dire need of repairs. A few years ago, I noted the subhead of one of their annual reports: "The Situation is Dire". The deficiencies were both well known, and visible. But describing the risk was not enough to close the Knowing / Doing gap.
Our current governor began his first term dealing with a massive failure of subway and commuter rail systems. Some things arguably improved, but stairs, safety systems, and even unsafe tracks kept getting worse, and injuries and deaths added up.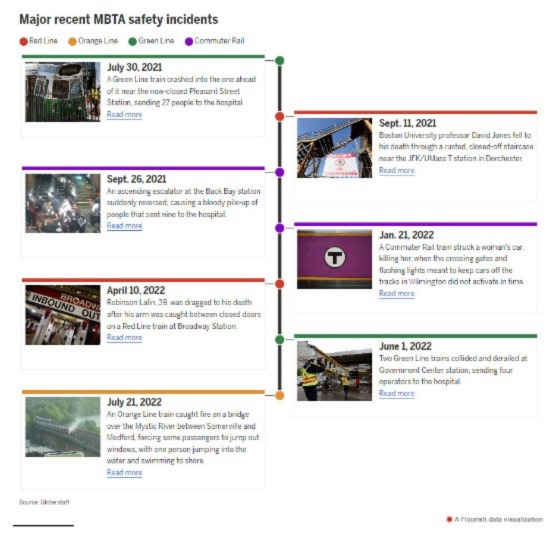 The prospect to turning off subways for a month….and not just any month, but the one in which 150,000 students return to our city during, became imaginable. The change of visible failure and deaths can make that which seems impossible simply impossible not to make. Climate change is almost ccertainly such a case.
I'd offer that Governor Baker's lame duck season enabled him to shoulder the weight of this decision in a way that no candidate serious about re-election could. Here in Boston, the planets aligned…at least for a month. This decision perhaps changed the narrative of the outgoing Governor's legacy.
As we think about taking on inaction on larger topics, such as global warming, it is not only fair to ask "how many must die before we get serious?" – it may be the essential question to ask. Climate change will conceivably increase deaths by famine, weather catastrophe, disease, or more generalized environmental stressors. Creating a scoreboard of that carnage, with the kind of studious documentation seen in substantiating the history of the holocaust, may be an essential mustering point to increase urgency until the call for improved alignment overcomes inertia.
How severe are the sacrifices stakeholders are willing to consider? Will it really take dying constituents to address this as an existential threat, "a war on" climate change? If that's the case, we should ask who can provide the most credible accounting of global warmings toll?
After all, the most important factor in surviving a crisis is often recognizing it and taking definitive action early. The death toll has no doubt started. If any good can come of this, it may be the chance to connect the diffuse harms of this new threat to build resolve for massive systemic change.
For more on this thinking, I recommend nearly anything written by my former Rutgers University colleague, Naomi Klein.