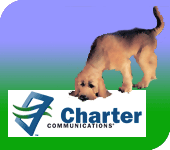 ISP Charter Communications is about to start spying on its customers surfing habits in order to build profiles for advertisers. Charter is partnering with a company called NebuAd, which provides the packet-sniffing technology that knows which websites you're visiting. And though Charter claims its customers can opt out, a review of NebuAd's patent indicates otherwise.
Here's how it supposedly works: NebuAd's monitor uses deep-packet inspection to build a profile of your surfing habits, and therefore your interests. Say you visit the site of a car magazine like Motor Trend. Assuming MT uses an ad service to stuff ads into its margins, Charter will note that you visit the site and then tell the advertising network to serve ads more tailored to your interests.
To opt out, users must provide their full name and address to Charter (don't they have it already?), who will put a NebuAd cookie on the user's machine. However, the only way that cookie could be read is by a NebuAd server, which would need to fetch it from your machine before it served up a requested page.
If you're surfing to MotorTrend.com, that cookie will never be transmitted, and therefore never acknowledged by the NebuAd system in order to tell it to opt you out.  This method of opting out simply doesn't work.
A more complete description of this train-wreck-to-be is available on Wired.com.
In addition, it seems this emerging fad has caught the eyes of lawmakers Edward Markey (D-MA) and Joe Barton (R-TX), who are members of Congressional committees who deal with telecoms.
The federal government caught hell for its domestic spying efforts, in some cases coercing ISPs to hand over data on you. And now it seems the ISPs are in that business for themselves.