It's that time, Vegans are protesting Pumpkin Spice Lattes, geezers are grousing about excessively early Christmas decorations, so its time for me to spin-up a listicle of cool software to help you keep it together. Though the Fall days may still be long, its frenzy has most attention spans short.  So, let's hit it and quit it. 
Welcome to my Quick 'n' Dirty Fall Edition of cool tools for digital droogs. And if you dig any of these, or have other favorite tools you've been recommending – please comment-in or tweet me.
Action Method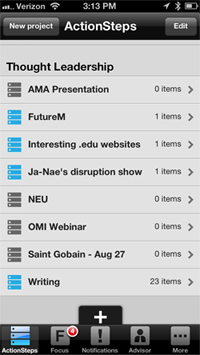 This program is to my work, about what HootSuite is to my social media use. The "Action Method" creates the same shift in real life, that brands are taking on in the digital world. Moving from nouns to verbs, and then breaking those verbs down to assignable steps that you can manage across all the digital devices you use during a day.
In Action Method, each user can see whats due, overdue and so on, along with the five items they've arbitrarily set as the rocks they need to take on as their own priorities. If you like the Rockefeller Habits, this is like its digital support system.
Further, nothing just "pops-up" as an assignment. Users chose what work and deadlines they accept. You can "nag", "message", or "appreciate" what other users are doing, while always controlling what is on your plate.
Its cheap and easy groupware that works like a flight control center for your priorities. Tasks roll-up to projects, projects get stored as groups.  So, you can divide life however you like: Sales, Account Work, Marketing, Family, Teaching, and then organize your projects and actions within them.
This has totally replaced the mobile app Clear for me, along with the list of "today's five things" that I used to write on a sticky note very day. Its is another smart purchase by Adobe, which is in the process of integrating Behance's tools in to its Creative Cloud. Which sadly has make it unavailable to new users, at least for now.  It blows me away that something this good is sidelined from the general market, but I suspect it will live in Adobe's the Creative Cloud. And currently the service continues for established accounts.

Liquid Planner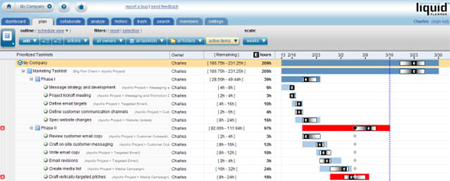 The one thing you can always be sure of in life is that the projects you plan will always change. And the sooner you figure out where the change is happening, the better you can be about managing it. That's where Liquid Planner comes in.
There's a lot going on when you first open LiquidPlanner—project progress bars, feeds of project comments, upcoming tasks. Its emphasizes priority (see a theme here) and best vs. worst case scenarios rather than a single projected completion dates. Its as much about measuring and managing uncertainty (and its eradication) than an ideal schedule. And that's smart, which rarely will be met if even small variances introduce delay. As a one time project manager, I find that MS Project cultivates a dangerous optimism across teams; some of that gets wrung-out by Liquid Project.
Yes, I still use Basecamp for document and client exchanges. But it can't compare to the real project scheduling capability that is the core of Liquid Planner.

Dark Sky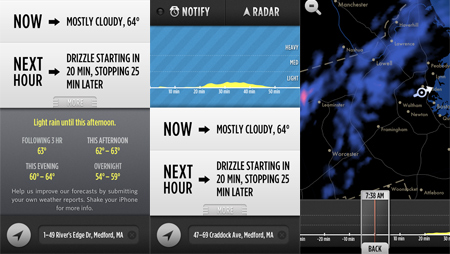 Just as most project plans are vague and hopeful, most weather forecasts are way to general skewed to overstate risk in a wet bias.
What I love about Dark Sky, besides its lush design genius, is that it narrows its scope to "Exactly what will the weather be in a specific location over the next hour?" And yes, it works! The forecast that rain starts in 20 minutes, and that will stop in 25, let me time a quick meal at a local diner. Perfect.
By very accurately predicting rain vs. just a threatening cloud with someone else's name on it, Dark Sky has made my Cherokee weather sense at best redundant.  After all, if its not going to rain, then don't take your umbrella to lunch. Dark Sky can keep you in the know.
Balsam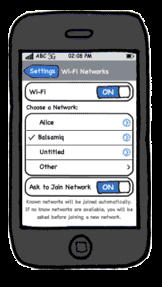 iq
Okay, from keeping dry, we rocked over to helping your ideas take wing. With all this talk of agile development, and everyone as a designer, here's an agile design tool that anyone can use. And it makes it simple to link wireframes together to let product managers, designers, and even marketing types do down and dirty prototyping.
Balsamiq is the intentionally low-fidelity production tool for rapid prototyping and making wireframes. In design school you get taught to blur your vision to see the big picture and fewer fine details. As we get older the blurring comes easier, I suppose. But keeping everyone focused on rough sketching rather than fine work is a big help to keep everyone idea twisting going.
By focusing on the Ideation phase, and keeping graphics excruciatingly simple, everything feels just thrown together, and clearly not final. The sketches invite further thought rather than an appearance of finality. You can get more of their world view in their design manifesto.
The alternatives: Protoshare, Axure and Omnigraffle are more polished good alternatives. But when you're down and dirty, Balsamiq is a great resources to have at hand. And if you're new to UX, or not even in it, I recommend it as a starting point.