Hurricane Sandy disrupted lives, closed businesses, and its became quite the Internet fixation over the last few days.
For those of you building brands, here are a few points of inspiration from the storm that you might take back to the office once we've all dried out.
Use applications instead of narratives to engage your audience.
The Google "disaster response team" quickly put up an interactive mapthat represented all kinds of data about Hurricane Sandy. Newsrooms have built a substantial capability to program interactive objects that engage readers with data behind the news, sports, and in this case weather. Adding some time marks to see the storms movement over the past would add context, and help this object transition from being a "breaking news" object, to  an evergreen explanation of a remarkable event.

Content marketers: are you devoting a substantial portion of your content development budget to programmed experiences? Think of how unmemorable narrative descriptions of this storm have been, so to are the narrative descriptions used in lots of content marketing.

The currency of social media are pictures (even doctored ones.)
Three photos will stick in my mind from this storm.

A very real photo of soldiers guarding the tomb of the unknowns. However, few realised the photo was taken September 18th, 2012 in a different rain storm. As American's thought of a hurricane beating down on the East Coast, and interrupting a long political season, it became an internet sensation.


A debunked "end of the world" shot of a hurricane cloud above Manhattan. Its beautiful, dramatic, and according to Snopes.com its a mash-up of of a Nebraska storm placed over New York.


And a humorous representation of the Statue of Liberty hiding behind its pedestal, taking cover.

 

Finally, any geek can have a cool "404 error page" but who has a rocking "we're closed from a hurricane" announcement?

Behold "Not Your Average Joe's" who put up an awesome, on brand, explanation of why they closed up during the hurricane, and why you should stay the heck home.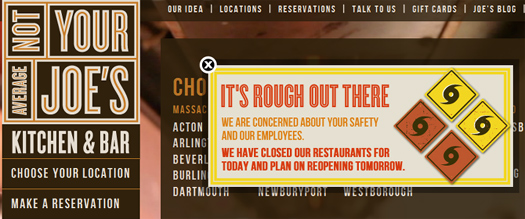 All three of these are manifestations of content strategy. None of them are based on cranking out posts – and any of them can inspire a smile, which is a pretty good pay off for any brand on a rainy, slightly anxiety provoking, stay-at-home hurricane day.
So, is your content marketing ready for hurricane? Or better, can Hurricane Sandy inspire us to make great real-time content choices?