Military advertising is a tough thing in the best of times; how do you pitch people on an opportunity that may involve getting shot at?
If there's a war that's even moderately popular, you can say things like "Protect the Homeland." If there's no war – it's happened at least once – you can pitch getting to use weapons and maybe learn a skill, hence "Accelerate Your Life."  Alternately, you can dare people; ask if they are tough enough to do what you do. Thus the Marine Corps' "The Few. The Proud."  (And yes, they do mean to capitalize it that way.)
That's about it.  Which is why we end up with things like "Army Strong," which sounds a bit like "Hulk Smash." At least there's authenticity in that.
However, probably the wrong approach is to show what really happens while you're getting shot at.  Why? See this example from the Navy, which is all over Boston's MBTA Orange Line.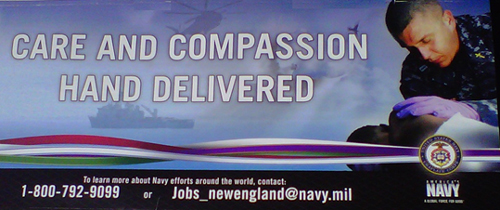 Who starts a recruiting discussion with a picture of a chaplain apparently administering last rites to a child? After all, when this happens there's almost always a regrettable story involving phrases like collateral damage.  Wieneke's first law of advertising: Unless you are selling The Sopranos, avoid associating your brand with death. Especially if your brand actually has anything to do with death.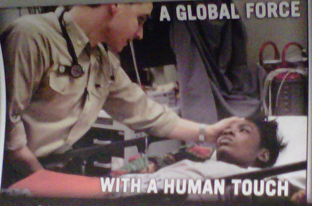 It blows my mind that the Navy, which is home to Seal Team 6 — a brand so strong, Disney tried to horn-in on their naming rights — is leading with a headline "Compassion Hand Delivered."
I suppose the SEALS have an unusually potent form of compassion in their hands. This is where the Navy's new theme "A Global Force for Good" misses what could make the brand resonate. It recasts the valor of the Navy as a macho Red Cross.
The Navy's ad firm, Campbell-Ewald, renewed their contract, valued at up to $800 million, partly on the Global Force for Good rebrand.
The Navy's old recruiting slogan, "Accelerate Your Life," drew on the promise of travel and responsibility.  But the new slogan, "A Global Force for Good," sounds too much like a non-profit, or a green investment fund making an equally vague claim. Walmart claims to be a force for good, and Delta, and Nu Skin. See the problem?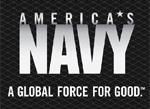 My beef isn't abut the Navy doing good; it's that the tagline creates a huge brand gap. It also sounds superior. And of course, it gets their name wrong. Its the "United States Navy". There are other 34 countries comprising the Americas. Yes, I digress.
The problem is we've seen Hunt for Red October and Top Gun; that's the Navy of Hollywood. It is hard to square them with "A Global Force for Good." It leaves too great a disconnect with the Hollywood impression the Navy helped cultivate.
It's tough to be in the military, even in the advertising department.
Side note: I'm looking forward to enlisting your help in something that will support those serving us in uniform. It won't make up for a flawed tag line, but its a great opportunity to show that service and sacrifice matter. Stay tuned for details.
Related reads: