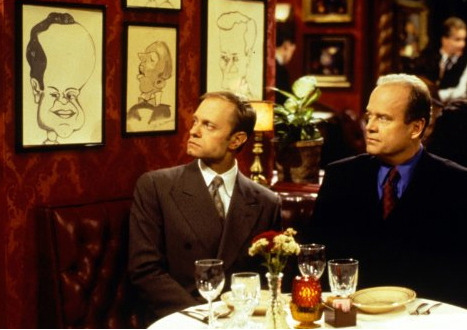 Justin P. Lambert over at Words that Begin With You mentioned a series of posts we ran last year about the ethics of outsourcing social media.  While inviting discussion, he's staked out a position which could be characterized as "truthiness in business." That is, nobody expects relentless personal communication in business, so changing the medium shouldn't shift that standard.
I took a different view of social outsourcing last year, when I referred to this as "Marionette Social Media." This inspired three fantastic comments with differing views, which turned in to guest posts: one made the point that blogging and social media are different; one aligned with Justin that "writers bring a bardic voice to client communications" so why not blogs; and my friend Altaf outdid them all by saying failing to outsource is a risk to personal effectiveness.
I'd like to update this discussion, and I hope you'll comment, email me, or write a guest post if you're inclined.
Social Media Should Be a Choice
I hope everyone who reads this will agree that it is unrealistic to expect the whole world to blog, tweet, or moo just because it's the new popular social media thing.  Fantastic athletes, statesmen, actors don't have to be witty in 140 characters. That should be an option we're ready to accept. Solitude is a forgotten pleasure, and in social media, too often the virtue of silence is forgotten as well.
I can cope with the idea that Bruce Willis or Tom Wolfe doesn't want to Tweet to us. This admission, that it's okay not to use social media, is the difference between real life and episodes of Frasier.
Mind the Gap
Also, I hope we can agree that clients need to mind any gap they create between perception and reality when they hire writers.  This is just a point of good brand management. The execs at BP would have done well to mind the gap they created by branding themselves as the "green" oil company.
Ethics Can Be Situational
Does it matter that the CEO of Dunder Mifflin turns in newsletter features or blog posts written on assignment by someone else?  Nope. Does it matter than the Guy Kawasaki who comments on my blog might be his assistant using his name? It does if that means Guy really didn't read the post, and that the compliment is really part of a brand-building campaign.
Does This Change Based on Which Social Media Is Used?
Is it okay when someone tweets on another's behalf? It may, when it comes out that @RealHughJackman is making factual errors in their tweets as a.) the real Hugh Jackman hired that job out and b.) the tweeter isn't in the same city that he's writing about "really enjoying." Once the truth is out, social media outsourcing can look pretty silly.
Does Profession Matter?
Some professions have codes of ethics that extend to marketing and address creating false perceptions.
Journalism
Does it matter that a journalist in their newspaper's blog writes what is actually bylined to them? Yep. In my experience, bylines matter a great deal in newsrooms. Journalists like facts, and they treat bylines that way.
Lawyers
If you learn of a lawyer through a ghostwritten blog, you might form your opinion of the lawyer's skill and knowledge through their frequent and excellent writing on a topic. If it turned out that counselor was not skilled or knowledgeable as suggested in the blog, you could mount a successful ethics complaint.
Public Relations and Ghostwriting
The public relations industry also has a code of ethics, and some agencies I know are quite uncomfortable with ghosting that crosses the line of deception. In both these instances the client, not the writer, is responsible for the impression created.

It's a Matter of Degrees
Most writer/client relationships I know of are highly integrated and client-driven. A busy executive wants to say more than they have time to write; they may pass off outlines and drafts, and re-edit written work so it is just as they want it. That's different than the buffoon Denny Crane who hires Tom Wolfe to write and post some of that "social media stuff" for him.
Let the Client Beware
You're publicly responsible for what you have done in your name.  It's okay not to be in social media. It's okay to get help to "amplify your voice." But the road to hell is paved with good intentions, so keep it under control. Everyone is cool and hip in social media, until someone becomes Frasier.