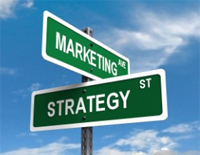 Meet Barbara Bix. She hosts The Top Line blog, which helps B2B marketers, often start-ups, focus on ways to get new revenue. We met at FutureM where I was sharing ideas for enterprise marketers on the Future of Digital Strategy.  And from our discussions, she's made a series of posts to connect these ideas to more entrepreneurial B2B marketers.
The most recent post features a sequence I use help companies plan their path up the digital marketing adoption ramp: Segmentation | Integration | Automation | Optimization.
These are phases firms go through as they develop more sophisticated and profitable digital marketing operations.  Her post elaborates this for small business, and shares my advice that even though this involves technology, climbing this curve is more about developing talent and process than acquiring tools.
Barbara broke out our discussion of the importance of goal tracking in web analytics as its own post.  Goals are really where strategy and operations meet. As much as I love to measure,  metrics only count if they are inside a strategy that connects them to business outcomes. So: strategy first, then measurement.
Then she shared one of my favorite tactics, structuring content so that visitors trip "digital signals" that tell you when they're ready to buy or start a direct discussion with your firm. These are highly actionable "blocking and tackling" moves, and I hope her readers (and mine) can morph them to suit their own needs.
Please keep sharing the good ideas you come across. I welcome guest posts and am glad to relate your lessons, just as Barbara has so kindly done over on The Top Line.