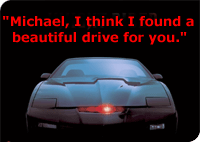 Lexus believes it's a good thing to speak to its customers about certain things occasionally, and that's usually an indicator of excellent marketing. But of course, choosing the right communication channel can make all the difference.
[Toyota] announced Wednesday that new Lexus vehicles will start being delivered later this year with a system that includes capability for voice messages sent directly from the automaker to its drivers.

Called Lexus Insider, the service will let Lexus send audio messages to participating owners on whatever subject it chooses, from tips on making the best use of the vehicles' features to suggestions for a scenic drive.
Toyota claims no verbal spam will be included, but they do say their messages will be targeted with such information as car model and zip code.
It remains to be seen how useful the information will be or if the user can set preferences not to be bothered with certain messaging. If done right, this can be an extraordinary marketing opportunity. Think of Lexus providing small bite-size audio tours about things of interest in your area, or anywhere you may choose to visit. A trip to Maine could be punctuated with a timely message about some festival in Ogunquit. A business trip from LA to Phoenix could be enhanced by an engaging description of the George S. Patton Memorial Museum in Chiriaco Pass, CA.
As one of the clearest lessons of all things digital-mobile, it's about the right information at the right time, and at the right place.
If the information proves useful to the consumer, then it could represent a whole new marketing channel. Think of it as private radio. On the other hand, no one wants a backseat driver, or perhaps worse, a false sense of schizophrenia.