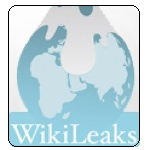 Back in 2007, I noted there were suspicions that WikiLeaks was a CIA front. Any lingering doubts of this are gone now.
Today, Washington politicians are falling over each other to establish who can be the most bombastic about WikiLeaks' disclosure of leaked  State Department documents. Charges of espionage and even terrorism are being levied against a foreigner with a website.
What, if Any, Criminal Charges Are Justified?
Attorney General Eric Holder has  urged that Julian Assange be prosecuted under the Espionage Act. Further, Congressman Peter King (R-N.Y.),  the incoming head of the House Intelligence Committee,  called for putting WikiLeaks on the list of "terrorist" organizations that includes Al Qaeda.
That would pretty much would take it out of the espionage business. Without conspiracy before the fact, this seems like an uphill climb. Reuters rounded up three espionage law experts, and they pretty much agree with this position. It seems that the barriers to successful prosecution would be:
Jurisdictional issues
Lack of collusion
No standing as an agent of a foreign power
Then of course there is the tradition of freedom of the press, which the US has an interest in promoting. If Assange's motivation was to disseminate factual information, there would be little distinction between an attempt to prosecute him or other WikiLeaks organizers and more established media outlets. Could anyone seriously suggest this would be an act of espionage for one, and good old journalistic reporting for the other?
Is This Leak Unethical?
Jack Marshall says it's an easy call: WikiLeaks is naive, unethical and dangerous. I agree. Leaking diplomatic cables makes diplomacy more difficult than it already is.  WikiLeaks is at best naive and reckless.
And while a case could be made for a "matter of conscience" that might justify the leaking of documents to fix a great government misstep or prevent a far greater wrong, this doesn't seem to be the case. The leak seems vast, indiscriminate, and more intended to embarrass than to fix.
WikiLeaks seems more like a symptom than a cause. And while in some cases it has exposed corruption, in this case it seems like an immune nuisance, which has been fed by what I fear is a traitorous countryman. And that's harder to contend with than fist-shaking at a foreigner with a website. Next time, let's keep our secrets where they belong.