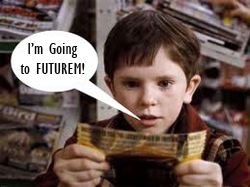 Just a reminder – if you'll be at today's FutureM panel discussion on The Future of Digital Strategy, I will have some tasty gifts for anyone who says hello and mentions that they read this blog.
As my brother-in-law is a master chocolate maker (who really should blog himself) there is a likelihood that I'll distributing his tasty fare as a pre-Halloween treat.
So if you're at this event, please come by!