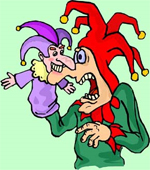 This is  a story about Eric and Jack, who both blog about the law with an eye on topics that are enlightening, ennobling, or at least entertaining.
By now you've probably heard about Eric Turkewitz, who wrote an April 1st post in his NY Personal Injury Law Blog announcing he was the new Whitehouse blogger. He recruited other legal bloggers to echo the post, so they could punk unsuspecting political bloggers who type first and check facts later.
The stunt captured a wider set of dupes than expected. In fact, none other than the New York Times ran with the story. Suddenly, the little geeky joke was everywhere. Here's Turkewitz's explanation of the stunt.
Why the hell would I go to all this trouble for an April Fools' stunt?

I'm glad you asked: Lawyers often deal with misery. Peoples' lives can be forever changed in a fraction of a second in an accident. Divorce. Child custody. Bankruptcy. Arrests. There is no real end to the chain of human misery that clients bring to the doors of practicing attorneys.
Eric's explanation matches my own for blogging. Personal injury law is how people and families attempt to recover when they "become statistics" though no fault of their own. I hear about explosions, poisonings, fraud, catastrophic medical errors, and — toughest of all — kids whose lives will be forever framed by the careless act of another. I understand the need for a joke, and I try to provide some of that here. In my opinion, lawyers with character rock. I'm fortunate to know more than a few of them.
Can't a Lawyer Make a Joke?
After the joke, the recriminations began. After all, reminded Jack Marshall of the EthicsAlarms blog, lawyer advertising is  highly regulated. Counselor Turkewitz misrepresented himself, and the codes of legal conduct are not suspended on April Fools' Day.  This both put Turkewitz's professional livelihood and reputation at risk and made Mr. Marshall the target of vitriol for being a complete April Fools' Grinch.
What followed was a thoughtful exchange between the two men about the nature of legal advertising and the provision of free expression rights even to members of the bar.
I've often noted that trademark rights can't be used to encumber efficient commercial and even competitive speech.  Yet bar regulation of lawyers' commercial speech does just that, by restricting truthful, accurate, and constitutionally protected self expression. Hey, if corporations can have "speech rights" in this crazy democracy, then members of the bar should too.
Yes, Lawyers Can Blog a Joke or Make a Mistake and Live to Tell the Tale.
To his credit, Mr. Marshall re-examined both the facts and his own motives for teeing off on such a benign case. And, unlike the fake apologies of news retractions or cheating politicians/golfers, Jack Marshall did a man's job with his.
It gave a far better introduction to his character. Take a look.
Blogs and social media in general often seem random, petty, self-aggrandizing, and downright anti-social.  But they also give us the chance to see people with insight and integrity more closely, and to discover there's often lots more to like. I'm looking forward to reading more of Eric's NY PI Blog and Jack's EthicsAlarms blog to see where their legal insights turn next.
I hope you enjoy them as I have.