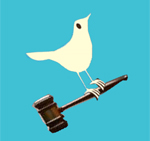 Last week, UsefulArts had its 1,000th subscriber join us on Twitter.  For those of you who have encouraged me, thanks. Its been fun joining you on Twitter!
If you're a new reader from Twitter, welcome. And thank you to everyone who has pointed out topics,  and kicked around first takes on ideas that later show up as full posts here.
Likewise, if you use Twitter, please come on by to @usefularts, and say hello. I'm looking forward to reading your Tweets, and hearing new voices in our discussion of legal, advertising and online branding issues.
All the best,
Dave Wieneke