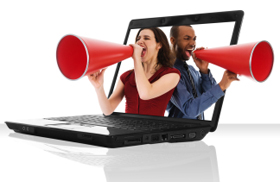 Online marketing has moved many firms toward a publishing model to generate market awareness and engagement.
This has spawned a broader range of public exchanges with both customers and the public as they share ideas on company sites, and as company staff participate on others' sites in official or quasi-official roles.
There may fewer customers slipping an falling on visits to stores or offices. However a new array of liabilities come with life online, which which larger firms may seek to mitigate with insurance.
Online Defamation – even "private" online conversation can be construed to be public if they take place on social platforms, consider Finkel v. Facebook. Further, Staples suffered a ruling for defamation for making a truthful but harmful statement in a mass email.
Data Privacy – the firm, or vendors doing work on their behalf, may lead to the breach of personally identifiable information (PPI) or company confidential information. If you're doing business in the EU, or conducting credit card transactions additional laws may increase your liability.
E-media and Internet Liability – new opportunities for false advertising, libel and slander are harbored in causual comments by staff or fast moving blog posts.
Negligent Network Security – for failure of security measures to prevent a denial of service, unauthorized access, theft of electronic data, inadvertent transmission of a virus or other malicious code using your firm's infrastructure.
Infringement of Intellectual Property (IP) Rights –recent  copyright law and trademark law rulings are replete with unexpected outcomes.
Cyber Extortion – for threats to disrupt your businesses online operation as a threat of extortion.
How to know if your firm needs cyber insurance
If your firm is going heavy into the digital realm, you absolutely need processes to mitigate these risks. But what factors make ponying-up cyber liability insurance more necessary?
Deep pockets and high visibility.  (reward for litigants)
Aspirations to use emerging technology on a wide scale. (entry to untested legal ground)
Audiences for which error can be extremely costly. (risk of client certainty)
Next up: liability coverage for personal online use
In considering this I've also found resources on ways to cover your personal liability of non-professional blogging and use of social media. Remember, doing something without pay doesn't insulate anyone from liability for their own actions. Continue reading the next post.