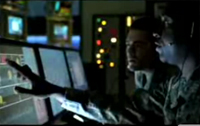 All Your Websites Belong to Us
The Christian Science Monitor analyzes the network vulnerabilities that placed Georgia, and over 100 other nations which have a network topography which puts them at risk for online attack.
"The lesson here for Washington is that any modern conflict will include a cyberwarfare component, simply because it's too inexpensive to be passed up," says Bill Woodcock, research director at Packet Clearing House, a nonprofit Internet research institute in San Francisco. "We've spent eight years completely ignoring that, while the Chinese and Indian governments have been paying really close attention and investing many tens of billions of dollars."
Pentagon Suspends Work on USAF Cyber Command
"I think this is a very poor time to send a signal that the United States is not interested in focusing on warfighting in the cyber domain," said Michael Wynne, the former US Air Force Secretary who made cyberwar a central mission of the Air Force.  See AP coverage
Cyber Warfare Began Well Before the Russian Attack
Attacks against Georgia's Internet infrastructure began as early as July 20, with coordinated distributed denial of service (DDOS) attacks that effectively shut down Georgian servers. See NY Times coverage.
Blurring the Line Between Propaganda and SPAM from War Victims
Citizens now have tools of mass communication and the ability to distribute them. This creates expanded opportunities for citizens in conflict to speak, as well as for governments to spoof such communications to win hearts and minds. See Circle ID coverage.