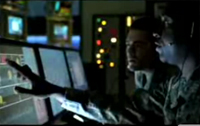 As public entities, government agencies can not claim copyright on their works.  But don't tell that to Meredith Pikser, an attorney with international law firm Reed Smith LLP.  Last week she filed a DMCA Take Down Notice against YouTube, asserting that she represented the Air Force, which owned copyright on its latest recruiting video.
Turns out this was a really bad idea.
The Air Force's marketing chief, Keith Lebling, helped distribute the video for this kind of public viewing. Lebling says any intellectual property claim should have gone through his office, and none did.
The privacy section of the Air Force site, where the video is promoted, states, "Information presented on the Air Force Recruiting web site is considered public information and may be distributed or copied."
To avoid legal risk, YouTube has diligently complied with the take-down notice. However, it has allowed this non-infringing content to be uploaded elsewhere on the service.