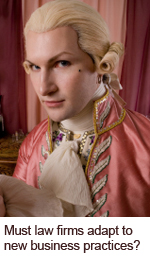 The Times of London has published serialized extracts of Richard Susskind's forthcoming book, The End of Lawyers? His thesis is that legal practice hasn't changed as quickly as business, and he suggests that big law firms are where metropolitan newspapers were a generation ago.
I know quite a few  "recovering lawyers" or "lawyers in denial." They have developed skills in business, or technology, and use their legal skills outside of law practice. They testify in Congress, run public agencies, advise businesses. They are legally savvy and creative, and have gone beyond their barrister skill sets.
Mike Skoler, the CEO of Sokolove Law, started his Business of Law blog with a post suggesting that the legal business model is broken.  In the US, law practices can only be owned by lawyers. Skoler says this regulation deprives these practices of access to investment and makes them financially vulnerable.
Indeed, Susskind argues, private "non-lawyer" ownership would drive the cultural changes and alignment with the broader economy necessary to make firms more viable operationally too.
The world of legal practice seems ripe for restructuring.  Isn't it time for the big firms to shift towards fixed pricing and to expand their skill sets, just as my recovering-lawyer friends have found new ways to add value?