Will Obama Break Google Up?
Stop laughing. Christine Varney, Obama's pick to head Justice's anti-trust unit, describes Google as "quickly gathering market power in what I would call an online computing environment in the clouds"…"When all our enterprises move to computing in the clouds and there is a single firm that is offering a comprehensive solution, you are going to see the same repeat of Microsoft." The New York Times is writing about this too.
Is it really the role of government to slow the lawful innovation of business? And what if the competitors who gain on Google were based outside the US? I wonder if Varney would advocate more open competition if the primary competitors were foreign. (Is that the US government's job too?)
USPTO Reclasses Domain Name Registration as Non-Technical
Domain Name Registration used to be a Class 42, which pertains to scientific and technical services. That makes sense—the Net is a technical environment; domains are part of it. Now it's Class 45: legal services.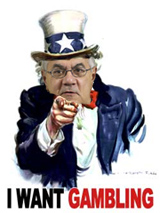 The web is also a legal environment, as we know only too well here.
Barney Frank Is Online Poker's BFF
House of Representatives Financial Services Committee Chairman, Barney Frank, will back legislation to repeal the UIGEA (Unlawful Internet Gambling Enforcement Act). Why? According to Forbes, a potential $52 billion in taxes over the next decade.
XBOX Live Wants No Part of Gay Anything (No poker for XBOX!)
Users were offended to when a gamer identified herself as lesbian, so her account was closed.  XBOX wants no part of that gay stuff. Richard Gaywood reportedly had his account closed just for having "gay" as part of his real name.
Red States Consume More Porn, Harvard Study Says Utah Leads
A study from the Harvard Business School notes that eight of the top 10 pornography consuming states went for John McCain in last year's presidential election –  Florida, and Hawaii were the exceptions.

Dueling Bus Ads: Don't Fight for Your Rights with Border Agents
The ACLU reminds bus riders of their right to remain silent. The local Republican committee reminds them cooperation with border agents is always better then confrontation. See the ads here.
Can I Publish Song Lyrics on my Website and Not Get in Trouble?  Nolo Says "Probably"
"The short answer to your question is that you will be violating the law, but that you probably won't run into problems."
Got an Hour? Get a Divorce and a Free Lunch
"Walk in married. Walk out divorced (almost). And get a free lunch." The Brodsky Law Firm promises to prepare divorce papers and file the case while divorcing couples dine at a nearby McDonald's or Starbucks with a $10 gift card provided by the firm.
Search Gets Wordier
According to data from Hitwise, search queries are getting longer. Most dramatically, queries with eight or more words were up 22%, while short searches were down. Longer searches means more inventory for advertisers, and at a lower rate.