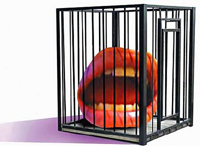 Mark the date. This announcement is the start of an effort by the FCC to regulate both Internet operations and content just as the Commission does in broadcast channels.  After an earlier effort to regulate bloggers as lobbyists failed, this appears to set the stage for another attempt for regulation of Internet content.
In a speech to the Federal Communications Bar Association on February 22, acting chairman Michael Copps said it was time to think "more rigorously" about the impact of the migration of communications to the Internet.
"Open access issues are important, but so too is how to ensure that as the Internet becomes our primary vehicle for communicating with one another, it protects the public interest and informs the civic dialogue that America depends on."
The term "public interest" is what the FCC was created to protect in broadcast communications. Commissioner Copps' use of this term signals an intent to attach the FCC to regulation of the Internet. And when the FCC regulates, it will not limit itself to operational issues, as "content" is where public interest in fact originates. The incoming FCC chairman seeks to remake the organization, so this statement connecting "the public interest" with Internet communication signals a potential sea change.
Of course, the Internet exists on private infrastructure. Your blog or website is a private asset.  I can think of no actual nexus for government control, other than that this medium is influential. And that makes it attractive for government agencies to try to control.
The Technology Liberation Front explored claims of "public interest" in governing communications last year:
The problem with all this "public interest" thinking, as Ben Compaine aptly notes, is that "In democracies, there is no universal 'public interest.' Rather there are numerous and changing 'interested publics.'" The viewing public is likely to have a broad array of interests and desires that cannot be adequately gauged by what five FCC commissioners believe to be in the public interest.
Conservative reactionaries have predicted that under Democrats the FCC would resurrect the Fairness Doctrine to regulate talk radio and blogging. This connection of "public interest" to the Inertet certainly fits the scenario. We may find that the line between "reactionary" and "visionary" may only be that reactionaries are a little ahead of the visionaries.