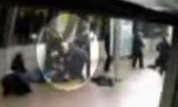 Web Videos of Oakland Shooting Fuel Protests "The devices people carry in their pockets give them the ability to turn what would normally be a case played out in the courtroom into one in which anyone with an Internet connection can serve as virtual judge and jury." This both shows how online movements start, and how video has jumped from being a novelty to a standard tool in online discourse.
Israel's Web 2.0 Strategy for Gaza War PR Israel is becoming increasingly tech-savvy, taking its war message to the blogosphere, using live webcams, social networking sites and YouTube to explain its assault on Gaza.
Amtrack Photo Contestant Arrested by Amtrack Police in Penn Station Amtrack marketing asks riders to photograph their trains; Amtrack police arrest them for doing so.
New York "Amazon Tax" Upheld by NY Supreme Court The court found that Amazon's affiliate program created a sufficient nexus to allow it to be taxed for conducting business in the Empire State. Other states are certain to expand online taxes.
Massachusetts May Tax Internet Sales Governor Patrick supports a law that would collect taxes from Internet retailers. Because participation is voluntary, Massachusetts officials estimate the state would collect an additional $15 million in taxes a year.
Feds Want to Snoop on Your Dialing – Federal Judge Disagrees The Justice Department says it doesn't need to a wiretap order to extract dialing noises from telephone calls in progress. A federal judge says otherwise.
Fake CNN Site Delivers Trojan An e-mail looks like it comes from CNN but links instead to a fake CNN Web page offering "graphic" video related to the Israel-Hamas conflict. Visitors are infected by a Trojan that steals sensitive data.
Your Front Door Managed Over the Web Lock company Schlage is launching a suite of products to allow over-the-Web control of a home's locks, lights, and thermostats. Do you think just maybe there's a built in back door, to give authorities access to, well, your back door.
Massachusetts Introduces Bill to Ban Non Compete Agreements for Employees We've described non-competes as the "DRM of human capital", and cheered California's recent banning of such agreements. Now the Bay State may join-in.