The Electronic Frontier Foundation is one of the heroes of this blog. My friends who have made this effort both possible and fun, Carolyn and Brandon, also admire EFF. And if you're reading this, I suspect you may dig EFF too.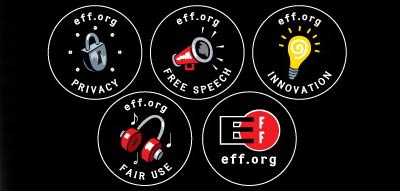 So, in honor of all that, for each new subscriber to UsefulArts.us from now until the end of January, I'll donate a dollar to EFF.*  This will help EFF start out the year with more support, and perhaps make the online news we write and read about in 2009 a bit happier.
If you're new to EFF, here's their excellent holiday video, The Twelve Days of EFF, which recounts, in song, what they were up to in 2008, and where they're going in 2009.
Thanks for your readership and for encouraging our behavior over the last year.
* Though this is a simple and, I hope, well-received gesture, no law blog is complete without a disclaimer.
UsefulArts is not endorsed by EFF. Our love is that obsessive, pure kind, given at a great distance, and entirely in one direction.
This offer is limited to the first 999 subscribers, which is the extent of how many people I imagine could possibly be interested in what we write about.
I'm not your lawyer, and neither are my friends, not even if you subscribe to the blog, link to it, or friend us on Facebook…though please, don't let that stop you.
The number of new subscribers will be based on the number of subscribers reflected on Feedburner on the date the post is published vs. that same statistic on February 1, 2009.  Email and RSS subscriptions both count.
Offer void where prohibited by law.
Don't try this at home, unless it works.
All the best,
Dave