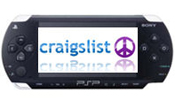 Loved by browsers – despised by newspapers
What's the top destination for mobile browsing in the US? Craigslist. US mobile users averaged a whopping one hour and 39 minutes per month on Craigslist alone.
Though Craigslist doesn't have much of a business model (no ads, mostly free posting, few staff) it has absolutely transformed print media. Between 30 and 40 percent of daily newspaper revenue used to be from classified ads. Craigslist has helped take a bite out of print budgets across the country.
Crime on Craigslist
Once a new medium becomes this popular, disillusionment typically follows. Mass adoption often fuels unfortunate or unintended outcomes. Here are a few:
Through Craigslist, I've bought a rabbit hutch, hired programmers, sold climbing gear and given household items away to lovely people. Craigslist is just a medium; it really doesn't encourage virtue or vice. But we have larger institutions in our communities which do.  And perhaps they need to be more engaged in social media.