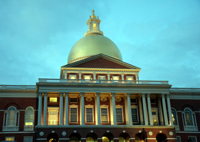 The Massachusetts House entertained debate of H-4822, which would force third-party ad networks that track visitor behavior between sites to allow visitors to opt out of receiving customized ads. The Cape Code Times provides details.
Internet giants such as AOL and Google were represented by the Network Advertising Initiative. Attorney Justin Weiss argued that the bill was unnecessary because the FTC has been reviewing this same issue. Further, he raised the jurisdictional issue that it would be impractical to conform all the world's websites to the laws of individual states.
Is the bill going anywhere?
The "option" bill gained over a dozen sponsors, but it's late in the Massachusetts legislative session and the bill is unlikely to advance. Further, we've seen industry influence reverse other technology policy initiatives, such as state adoption of open-source applications.
Ultimately, the argument that states shouldn't attempt to regulate the Internet makes great sense. Further, third-party ad networks can provide more relevant site experiences, and are providing some opt-out options.