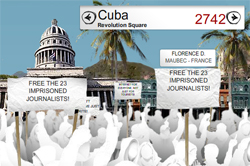 Where have all the protests gone? Many of the most interesting and successful are making creative use of new online environments.
IBM workers gained salary increases through a Second Life protest.
Over a million Colombians mobilized through a Facebook group.
American students built a Virtual Guantánamo detention facility in Second Life.
China repealed Internet limitations after a virtual mass suicide of online game characters.
Come see some noteworthy online protests and services that are popping up to support the virtual life of real movements.
Second Life Strike Against IBM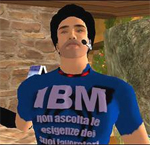 Rappresentanza Sindacale Unitaria IBM Vimercate (RSU), the official trade union representing IBM's 9,000 workers in Italy, undertook a novel form of industrial action – a strike on Second Life.
IBM has a large Second Life presence, in which 2,000 characters in protest shirts, carrying signs, picketed. The result was a change in a salary increase policy for employees in Italy and an award from the French Senate.
Facebook group mobilizes millions in anti-FARC march
When Oscar Morales, an engineer from Barranquilla, Colombia, and five friends launched a Facebook group called No More FARC, they didn't expect to create a movement.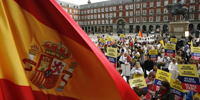 But within 30 days, their Facebook group's 250,000 members mobilized millions of protesters.  More than 4 million Colombians marched simultaneously in 27 cities throughout the country and 104 major cities around the world, shouting "No more kidnappings! No more lies! No more deaths! No more FARC!"  Read the full story here.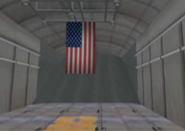 Virtual Guantánamo
Seton Hall University School of Law and and the University of Southern California's Institute for Media Literacy have used Second Life as a platform to raise public awareness of US detention policies.  You can take a video tour of the center on YouTube. While this is framed as educational, it's pretty clearly education in the service of advocacy.
Mass Virtual Suicide in China to Protest Game Limitations
Wired magazine reports that a group of World of Warcraft players in China committed virtual mass suicide. They wanted to draw attention to the latest restriction on their liberty: The same government agency that censors newspapers and bans books had just mandated a system of disincentives to limit the number of hours per day they spent playing online games. Within four months, the government's restrictions on game time were lifted.
Reporters Without Borders Has Freedom of Speech Day (sort of)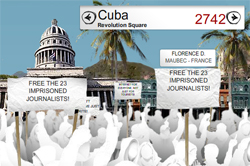 Speech Day would have been far more convincing if demonstrators were enabled to express their own ideas, rather than select approved statements. After all, isn't that what free speech is really about? That said, over 21,000 visitors held virtual signs over 24 hours to protest the imprisonment of 62 web journalists and citizens punished for online postings. The site enabled visitors to pick from a set of predetermined slogans, to hold a virtual sign, and to move through an audience to see the names and locations of others.
Online Protest Resources
PetitionOnline
Web sites such as PetitionOnline.com allow anyone to create and manage a petition on the Web for free. They've collected 64 million signatures.  As their success stories suggest, online grass-roots politics can persuade powerful players to change their tune.
EPolitics.com
This site provides how-to advice and consulting to encourage online advocacy. They discuss online advocacy and online politics broadly and as a craft, focusing on what methods work and when, without selling a particular product or consultancy. If you want to know how to use text messages, email, RSS, and video to raise and manage a protest, this could be your online manual.