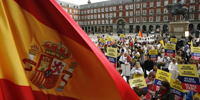 When Oscar Morales, an engineer from Barranquilla, Colombia, and five friends launched a Facebook group called No More FARC, they didn't expect to create a movement.
But within thirty days, their Facebook group's 250,000 members mobilized millions of protesters.  Last week, more than 4 million Colombians marched simultaneously in 27 cities throughout the country and 104 major cities around the world shouting "No more kidnappings! No more lies! No more deaths! No more FARC!"
The Christian Science Monitor covers this remarkable story with its characteristic balance, pointing out that though the website was anti-FARC, many of its participants simply opposed the use of political kidnapping–a topic especially familiar to Monitor staff.
The protest in Colombia turned out to be the biggest in the country's history. The national police operations commander, General José Riano, said an estimated 4.8 million people turned out for 365 marches in the country.
This phenomenon is surely not lost on the Chinese officials tasked with preventing protests during this summer's Olympic Games. One of this blog's first postings was about the assembly of China's massive Internet surveillance and filtering capability.  Testing tools indicate that MySpace and its No More FARC group are currently not blocked in China. 
However, as the world's media arrives in Beijing for the Olympic Games, broad state censorship of networking sites seems all too probable.