Note: this is written from the road and is published with illustrations and some copy editing which may happen later.
View from the road
Ever since spending a long election night in Las Vegas in 2016, the Healthcare Internet Conference has been an annual milestone for me, and not just because this gathering has made me good at voting absentee.
Its a chance to get to know the people behind the digital healthcare marketing that I research. Here is a post on the ten sessions I most looked forward to at HCIC, it's full of generous digital leaders. While I often attend this conference on my own or with one colleague, this year was quite the change.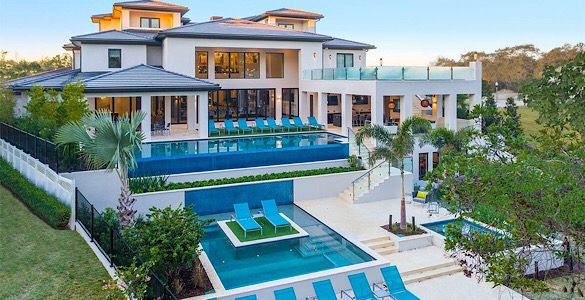 Another conference which our development team participates in en masse at was also going on in Orlando. So, rather than putting around 20 people in conference hotels – we rented a 25,000 square foot mansion….which turned out to be cheaper the conference hotels.  I'm glad to explain the math and tell stories of its opulence and what an fantastic entertaining venue it was.  But here's a 15-tweet string outlining the story and enticing friends to join us for a small party there.
This week's fixations
Technology of the week: Air Play
I used it to stream five years of Delight Conference sound tracks during Connective DX's villa party. Anyone with an Apple device at the party could DJ without installing software or setting up a password.  Yes, there's a risk a trickster could have played Push the Little  Daisey's by Ween…but with great power comes that responsibility.
Reading: Mike Monteiro – Ruined by Design
Fall is when I tend to afflict comfortable designers and digital strategists with a reminder of what are often unstated moral obligations. After all, there is no RFP for justice. Those waiting for it are in denial.  And those believing that fixing websites for Tiffany's, a movie studio or a billion dollar organization is fixing the world, are conveniently  deluded. At some point each year at the Delight Conference I end-up talking about falling in love with problems serving those who fall outside of "commercial personas."
That's my take on design ethics, which Mike Monteiro generally agrees with  – and takes a step further declaring that doing just acts in a racist, masogenist, oppressively hetonormal world still may only perpetuate that injustice. He less then gently suggests that old white guys should retire, die or elsewise get out of the way for younger, less culpable folks. One can take this less than literally. Christ described the challenge of being righteous for the privileged as being as hard as fitting them through the eye of a needle. But still a call for hue-based culpability shouldn't just be left to roll.
I'm reminded of Shimer College Professor Adam Kotsco, who suggested that in response for benefitting from racism that mass-suicide might be be a reset button. (Then all kinds of social media spew began.) While he and Monteiro each may overstate their point for effect — both accept reasoning the if privilege is conferred by group traits (gender, age, skins color) than culpability can be too. Of course, life, race, and gender are more complex than what is seen. And evidence of Big Liberal Guilt may be a self-demeaning accessory for woke men.
On a related note, This year I've offered my resignation to promote diversity in my teaching, paid for gender queer students to attend a conference, and brought a few hundred pride flags to work and home to start overdue conversations. I also made inclusion the major finding in my work research.
To my mind, this is more about decency that comes with age than privilege. I've seen such behavior in my teachers and parents, and hope I've added a useful note in a too often commerce driven world. Our lives mean more than demographic identities — which I suppose we each carry and struggle with either in isolation or community as our friends allow.