Since Friday I've carried around a copy of the Wall Street Journal's editorial, The Charleston Shooting.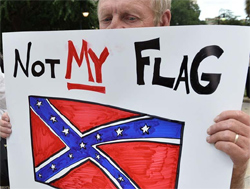 Though their editorials can get pretty partisan, they're not hard to ignore. And their twice daily tech podcasts, databases, and smart business reporting has made my subscription a welcome guest in my business life. I tend to seek out views different from my own, so divergence is all good.
However, there is a non-theoretical limit at which you just have to call "horse shit", as Slack Co-Founder, Stewart Butterfield did over the weekend. Why should my daily paper so quickly rush to diminish or disallow the frame of race as how we understand a racist act? There is a point at which denying a problem simply perpetuates it.
What we don't do defines us
Thirteen years ago I gave up broadcast television and cable, thinking it easier to raise children less influenced by the media that way. This pretty much worked out.
Then, as my girls became environmentally conscious, they pressed me to do something to reduce my impact on earth. And three years ago I got rid of the car I kept for commuting, and began to walk six miles a day or bike – giving me time to reflect, exercise, and a chance to see my city up close every day.  Again, these better activities came to replace what I ended. I didn't know things would get better, but they did.
So today I'm giving up the Wall Street Journal. I'm uninstalling the app, and I've lined up a bunch of other digital newspapers and trade magazines that I know less well than the journal.
Judge for yourself 
 It is inevitable that when nine black men and women are shot to death inside their church by a 21-year old white man in Charleston, SC, the issue of race in America will be raised.
Yep, as hard is that is to believe, when innocent people are massacred in a church already associated with such killings, and all are dead over their race, then yes, it's pretty clearly a racial incident. But the Journal's editorial board suggests this need not be the case.
It does not matter than the alleged killer, Dylann Roof, brings to mind the mentally troubled young men who committed horrific mass murders if innocents inside building in Newton, Conn; Aurora, Colo; or Virginia Tech. Nor does it matter than individuals are murdered every day in less noted acts of hatred or rage that leave survivors bereft beyond understanding.
This is where the editorial suggests that a racial lens is superfluous. I find it difficult to believe that any author of this editorial has personally feared that they will be mistakenly brutalized or killed by police, or assaulted by someone out to hurt someone "in their group". Long ago, I recall the new Boston Celtics recruit Dee Brown, who while hunting for a home in Wellesley with his fiancée in in Wellesley was mistakenly identified as a bank robber. The couple was surrounded by nine police officers, five of them with guns drawn, and ordered to lie face down on the pavement of the community they were considering moving to.

The Journal paints an encouraging view the improvement that two generations of civil rights progress has brought.
…it is also important to note that the US, notably the South, has moved forward to replace the system that enabled racist killings like those in the Birmingham church.
Back then and before, the institutions of government – police, courts, organized segregation – often worked to protect perpetrators of racially motivated violence, rather than their victims….the combined efforts of local, state and federal police is a world away from what President Obama recalled as "a dark part of our history. Today the systems and philosophy of institutionalized racism identified by Dr. King no longer exists.
As good as ending overt discrimination is, it's hardly time to buy the world a Coke and call it a day.

Whatever his motivation, (it) is a problem that defies explanation beyond the reality that evil still stalks humanity.
This avoids putting the story in a context in which improvement would be possible.  But it isn't a problem that is just part of humanity and the existence of evil. Compared to other cultures, we have a lot of mass shootings and they're increasing.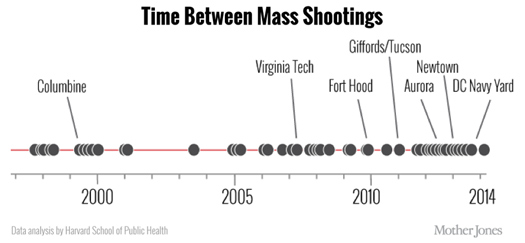 Does it ever feel to you like the universe is testing us? Shooting kids at school wasn't enough to tighten gun access, how about people in a movie theater?  No, how about people at prayer? The frequency of such killings is unique to America – and as John Stewart now famously pointed out, so as is our collective abdication of acting to change this. We won't do jackshit, and WSJ's editorial seems to signal that this is an inexplicable and therefore unaddressable evil.
Except for the one dead crazy, we're good, thanks.
The Journal's editorial essentially says "crazy is as crazy does." Though horrible, they cast it as an isolated act that reminds us of a worse past which is long gone.
Of course there are no levers to reverse any of this. But one lever I can pull is to end my subscription to the  Wall St. Journal, which I've done today. 
Promoting the idea that a lack of overt state racism is in any way "good enough", makes the Journal part of the problem. This is a moment for change, so I'm starting with how I buy news.
Nothing's perfect, but we can pick the problems we tolerate.
In a year where the refrain Black Lives Matter is on signs in front of churches across the country, this tragedy counts as part of a larger story.
It's a reason to do better. It's not the nature of evil or humanity holding us back, it's not caring enough to make change.