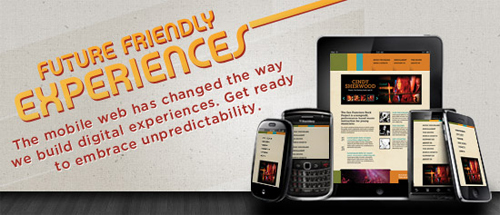 I'm pleased to announce this free webinar on one of the absolute hottest topics in digital marketing, future proofing our work as we move to a post PC environment.
Consumers today already expect fully responsive experiences across a huge number of devices and platforms. However, designing individually for the array smart phone operating systems, tablets, game consoles, and now even car dashboards, is a path to stranded effort and investment. The good news is that there is a solution to this.
Smart companies are finding they can use an approach called Responsive Design to sense visitor's device parameters and render a digital experience optimized for them.
When: Wednesday, April 11, 2012 at 1pm – 2pm Eastern
Where: on your computer
How: Register for Future Friendly Mobile Development here.
Who: My colleague and friend, Gene Ehrbar, is the Director of Mobile Solutions at ISITE Design. 
If you're thinking about how to develop great mobile solutions that can adapt to the future, then this hour should be inked in to your schedule. Having taught Mobile Marketing Boot Camp with Gene, I know insightful, expert, and generous he is. This will be good.
Tell him Dave sent you. ;>