The days when nobody can tell you're a dog on the Internet are gone.
Mobile digital experiences are unquestionably the greatest open field opportunity for digital marketers. But this space is still new to both users and firms, and that the state of the art is still advancing rapidly.
The Challenge to Marketers
The key challenge for today's marketers is to learn how best to serve a newly-empowered customer base, in order to forge lasting customer relationships. And how to line-up their business and technical platforms to deliver these experiences even as this channel evolves.
The Mobile Marketing Crash Course: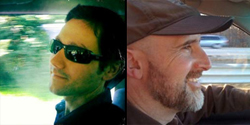 Mobile is absolutely the "breaking news" in the digital marketing world, and marketers are working to sort out its fit for their business, and the best way to build new mobile capabilities. So, I'm thrilled to be here in San Diego with ISITE Design's Director of Mobile Solutions, Gene Ehrbar, where we'll co-leading a half day Mobile Marketing Boot Camp. (See more on ISITE's approach to business-focused mobile marketing here.) 
Join Us, or Have Us Join You
If you're in San Diego for the Online Marketing Summit, please come join us. Or get in touch so we can discuss your mobile challenges personally, or bring this workshop to you. Besides building mobile experiences for clients across the US, we provide advice to teams on building the teams, business vision, and infrastructure to win in the mobile space.
Here's today's line-up:
1: Making the Case for "Mobile First".
I'll provide an analyst level view of the shape and speed of the changes being driven by huge mobile adoptions – and perspective to separate hype from disruptive change. After all, without a "why to" which is specific to your business, there's no need to wrestle with creating new capabilities.
2: Mobile Web Crash Course.
Vendors may tell you this is a technical shift, but don't believe it. Your audience and the brand experience you want for them set the development parameters for the mobile web. Gene will connect that decision around whether to make dedicated mobile sites, or to use responsive web designin, and how those choices connect to Search Engine power and overall user experience.
3: Mobile Apps Crash Course
Gene and I will discuss a typology of mobile apps and the financial models behind them. He'll talk about the attributes of successful apps, and how app and web channels differ. And yes, we'll be going deep on virtual reality, real-time social networks, and location based services sharing  real world development expriences.
4: Yes, you can measure it.
We'll look at special SEO considerations in the mobile world, and specialized tools to measure mobile web and how to design "in-app" measurement features. Finally, we'll talk about what "good" looks like by discussion what "lift" looks like in a mobile world.
5: Moving the State of the Art Forward
Finally, since people look at the world differently when you give them tools for making change, we'll do some work together. Groups will take apart successful mobile products, and work on ways to improve them, while considering the development steps behind this kind of creativity.
 There's a big day ahead, so wish us luck. We'll be tweeting on the #OMS12 hash, and regardless of where you are today, we'd like to hear from you.