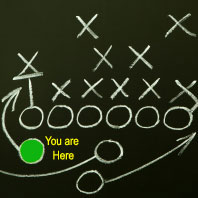 Hey, it's time we caught up!
ISITE Design is sponsoring a free webinar in which I get to share the five things you need to do now to drive your digital business' success. This has been an amazing year of working with great marketers around the world. I'm thrilled to have a chance to share some of these methods and views — and I want you to be in the house and part of the discussion.
We're dialing in this Thursday, 2pm Eastern / 11am Pacific, and hope you can join us. (Jump to the registration details.)
What you can expect from #Digital2012
If you care about how the mobile web, video, and social media are coming together, then I think you'll get fired-up by this. But knowing is different from doing, so we'll also look at tools and techniques to help get your whole firm behind your digital business vision.
There's just no way to write a post about all this stuff; it takes a webinar. But in just 60 minutes, it will be fast-moving and cover a ton. Please come join us, and bring friends. ;>
There's an awesome give-away
Not that incentives are needed, but the first three audience members to log in on presentation day will get a copy of one of  2011's best reads, Business Model Generation from Wiley Press. I'll be demonstrating their business modeling rubric, and if you're early, you'll get a copy and be designing business revolutions from home.
You're the first to know, so tell someone.
Since you read UsefulArts, you are the first to know about this free event. Act on this tip now, register here – *and* tip off your friends.
I'll be tweeting about this using the #Digital2012 tag. Later today, I'll start putting word about this on LinkedIn, and the usual channels. 
I'd be immensely in your debt if you'd spread the word — and I'll try to pay you back Thursday with the smartest, most actionable, quotable presentation and discussion I can give. ISITE's Chief Strategy Officer, Jeff Cram, will moderate questions and help get your voice in the mix.
This webinar is graciously organized by ISITE Design, with whom I have  ongoing business dealings. They do a lot of good promoting the discussion of online experiences that delight, reward, and elevate. I hope this will be one of those…with you in the house, it's sure to be.
Thanks for encouraging my behavior!
Talk with you Thursday,
Dave