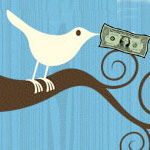 The best innovations sometimes come from the ground up. Here are three stories I tweeted about this week on the @UsefulArts Twitter feed.  Each is a super-short story of  a self-empowered sales pioneer who went just a bit off the beaten path to created their own new personal sales channel.
Best Inbound Marketing Ever!
Beer Vendor Takes Twitter Orders for Beers at Seattle Mariners Games
I love the pluck of stadium beer vendor Kevin Zelko (@Msbeervendor), who decided to try having people text their orders and seat numbers, so he could focus on delivery. He may well be the first stadium beer vendor to have his own organized following of fans.
Thanks to @LouisGudema
Getting Your Dream-Job Agency to Notice You
All Boston University undergrad Katelyn Stokes @kstokes28 had to do was post her plan on how she'd get attention from her dream employer, Digitas. She used the names of the firm and its staff repeatedly.  Pretty soon her post was triggering Google alerts and showing up in staff members' vanity searches on Google.  It just took a day for Digitas to contact her by Twitter to arrange surrender an interview.
Killer Shirts in Just 140 Characters
Last time I saw Edward Boches he was wearing a wild business shirt at the MITX awards. I wondered where he scored them, but I'd never have guessed Twitter. Of course, back then, he wouldn't have guessed that either. Here's the story of @NordstromDave who, like Kevin and Katelyn, took 140 characters and created a mobile/social strategy for his little corner of Nordstrom's.
Do you know someone who has taken their career or brand into their own hands and found a faster route to revenue? Or have you had a Twitter "ahhh" or "ca-ching" moment? Fill us in below!