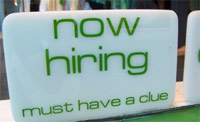 Andrew Benett, the Global CEO of Arnold Advertising sent around an announcement yesterday that a busload of digital advertising leaders from Modernista! have just arrived for their new jobs at Arnold.  As someone who follows digital agency news daily, this is a represents a shift in Boston's digital scene.
I'm amazed to realize this, but turns out my relationship with Arnold (& co)  goes back twenty years. Back in the 1990's, I had the pleasure of having Ed Eskandarian as a board member. Along with him came all the resources of what was then the largest ad firm north of New York, Arnold Fortuna Lawner & Cabot. We used billboards, about 40 of them, to help a non-profit  in Boston. Those planning meetings and the results that followed woke me up to the power of media and design.
Modernista! and its decision to abandon its often design ridden website for curated amalgam of what the web says about them, was one of the things that kicked off my focus on Web3.0 – what I then called the pageless siteless web. Best of luck to all involved, and enjoy the announcement.
Building a best-in-class digital capability has been a primary area of focus for Arnold over the past year. It's important for your business and ours. We've made great strides in reaching that goal over the past 12 months with talent from R/GA, AKQA, Goodby, and Crispin joining the agency. I am writing today, to let you know about some exciting new digital hires that we announced on Monday.

Matt Howell joins Arnold as Managing Partner, Global Chief Digital Officer. He will lead Arnold's digital teams across our global micro-network to ensure our digital offering is fully integrated throughout each office. Matt is a true digital leader with a career that can be defined as a fusion between marketing and technology. He spent three years at Modernista!, most recently as President of the agency. Modernista! became well-known for creating innovative digital work for its clients, and we're thrilled to bring his knowledge to Arnold. Prior to Modernista! Matt was at R/GA, where he was responsible for award-winning work for Nike+, NIKEiD and the Nike online store. He also helped the agency expand into Stockholm, Sweden. Throughout his career, he's worked with a diverse range of brands, including AT&T, Cadillac, Prada and Sony, and has taken top honors at Cannes, the Clios and the One Show.

Matt brings with him six fellow digital specialists from Modernista!, including Sebastian Gard, who joins as SVP, Director of Social Media, and Bob Goodman, who joins as VP, Director of User Experience.

Sebastian will be responsible for building social media strategies and concepts into client campaigns, as well as for helping to build and manage Arnold's social media practice. He has a diverse background in consumer marketing, consumer product management and software engineering and has worked with a long list of Fortune 500 brands, including Microsoft Windows, Zune, Bing and JCPenney.

Bob's expertise in user experience spans early-stage ideation to final-stage optimization. He has led design and usability projects for more than 20 consumer and web products, including the first online insurance site, the first online grocery store and the first global scientific R&D marketplace. Most recently, Bob was User Experience Director at Modernista!, where he was responsible for building engaging experiences on social media products and platforms. Bob has worked with notable clients, including Coca-Cola, Eli Lilly, Nickelodeon, Showtime, Verizon and WebMD.

In addition to Sebastian and Bob, we are also welcoming Greg Murphy and Matt Karolian, who join as social media managers, and Lauren Shea and Brendon Volpe, who join as digital producers.

We look forward to the opportunity to introduce you to Matt, and to learn about ways the entire digital team can add additional value to your business.

I am attaching a link to the article in Adweek on these recent additions.
Arnold Nabs Digital Talent from Modernista!

Regards,
Andrew

Andrew Benett
Global Chief Executive Officer