I've blogged about firms finding growth by starting innovative gaming practices or going deep into biotech. But not all legal innovation is for the good.
The defense firm of Lindeman, Alvarado, & Frye has gone and started a kiddie-porn practice.  And what better choice of imagery for attracting child porn defendants than….yes, wait for it…… a guilty looking woman-child showing some skin.
(Please share  your comments on this below.)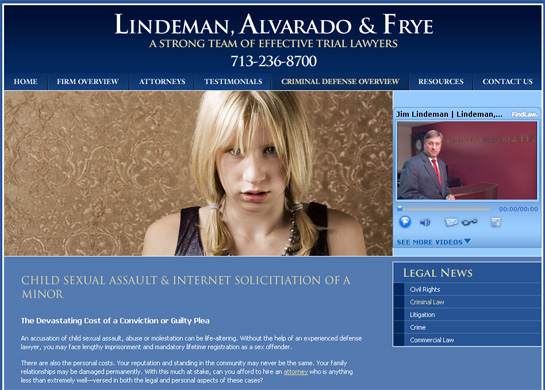 Here's their copy, which again, I submit to the tender mercies of your comments:
An accusation of child sexual assault, abuse or molestation can be life-altering. Without the help of an experienced defense lawyer, you may face lengthy imprisonment and mandatory lifetime registration as a sex offender.


There are also the personal costs. Your reputation and standing in the community may never be the same. Your family relationships may be damaged permanently. With this much at stake, can you afford to hire an attorney who is anything less than extremely well-versed in both the legal and personal aspects of these cases?
Would anyone care to speculate on which "personal aspects of these cases" counsel may have been referring to?
In the court of bad advertising, can you plead insanity?
But wait, here are two more…..Lindeman, Alvarado, & Frye proceeds to go totally off the ranch with these other case types.
Plaintiff Intimidation Our Specialty?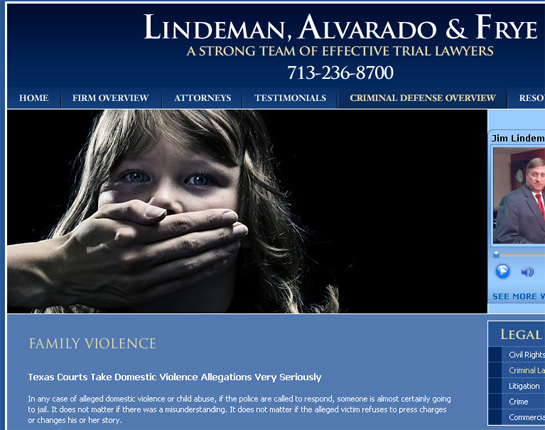 Hey, Sara-Lou, Daddy's seeking a defense lawyer, how about these guys?
Would anyone like to send this firm a message?
Its simple to do. See my earlier post on Google sidewiki, and go type what you think of this firm's advertising on their home page.
Their third web ad goes even further in stupid and tasteless bad advertising…
Who's the Boss?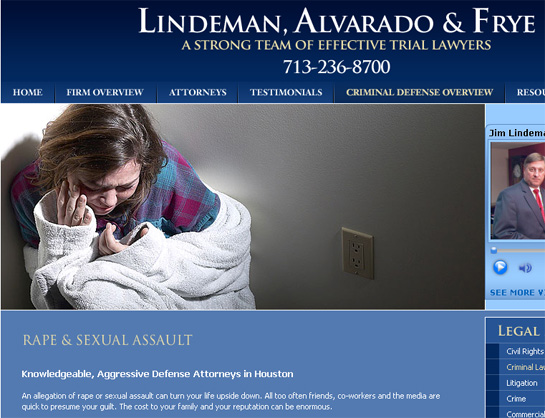 Not that I'd wish to send them free advice, but wouldn't it make more sense to use a photo of an innocent accused rapist than an apparently beaten woman?
After all, these guys — and yes, they are three male lawyers — are supposed to be creating the narrative that "this didn't happen this way." Instead, their ad looks like something the DA would enter as evidence.
If you're as riled up by this, as I am, please join me in dishing out out some much-deserved ridicule.  Legal advertising is a mess; you can help make these guys the case that wakes up the bar associations, which regulate firm advertising on a mostly reactive basis.
Share comments, point this out to friends through social media, or (probably the most satisfying idea) make a Google Sidewiki comment right on the Lindeman, Alvarado, & Frye homepage.