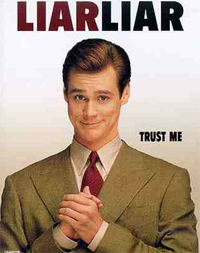 There are lots of legitimate reasons people don't want their names on domain-ownership records. These range from exercising the privilege of anonymous speech, to avoiding spam, to simply preserving one's own privacy.
Of course this practice makes tracking down responsible parties for infringement or other offenses harder, as it requires a court order to learn who owns what domain. Now the Ninth Circuit court of appeals has said that using such a service constitutes a  "material falsification" of information." See United States v. Kilbride.
GoDaddy has been the leader in providing this service. As long as this ruling is confined to a circuit court, this becomes a source of uncertainty for this part of their business. Stay tuned for appeals.
The same ruling also ruled that obscenity in email messages should be judged by a national standard, rather than a local standard where the email is received. Details are posted in E-Commerce and Tech Law.