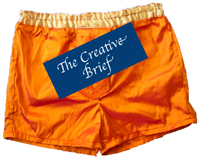 Otis Maxwell is a copywriter who likes to mouth off on marketing, technology, and food. He's also a great creative.
Last week he asked me what was on my short list of projects, and to my surprise I immediately said "Creative briefs." After all, they really are what keeps chaos at bay, and more importantly, they prevent scope creep. In a fast moving marketing department, these are essential.
Otis smiled and told me I'd probably enjoy one of his recent blog posts on the  praises of creative briefs.
If you're hungry for documents to build your creative process on, I'm a long time fan of Amy Goto's books on website redesign. She provides templates for everything from an initial client interview to metatag planning. Her communications brief is the key client survey for many agencies.
If you need to ride the waves of change, rather than being buffeted by them, then make the process of creative briefing your surfboard.  Just as behind every great leader there is a killer wimp, behind every breakthrough campaign is a creative brief that just nails it.
Just a little clarity at the start can make your build processes faster, and improve their outcomes.