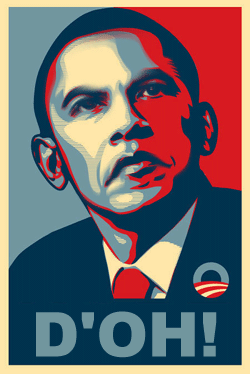 The Associated Press struck back as it countersued Shepard Fairey this week. The AP claims Fairey's usage of an AP photo was uncredited and uncompensated, and violates copyright law. They added that it's also a threat to journalism. The AP is seeking profits and damages.
Apparently, Fairey used several companies to market the derivative work, including his own Obey Giant, Inc., and made something in the neighborhood of $500,000. Conspicuous by its absence is any reference of the Obama artwork on the site.
The suit states "While [Mr Fairey and the companies] have attempted to cloak their actions in the guise of politics and art, there is no doubt that they are profiting handsomely from their misappropriation,."
According to a Bloomberg quote:
"My entire purpose in creating the poster was to support Obama and help get him elected," Fairey said in the statement. "Money was never the point. The proceeds that were generated from the poster were used either to create more posters or donated to charity."
Fairey's original suit against AP took them by surprise as they were in negotiations to resolve the matter.
Staci D. Kramer notes
For the AP, it's the latest in a series of high-profile efforts to protect its intellectual property—often at risk to its image when others perceive it as being either heavy handed or somehow impeding others, in this case an artist.
What would Andy Warhol do? He would have thrown a fabulous cocktail party to draw attention to the matter, invite influential people, and made a lot more money from the posters.