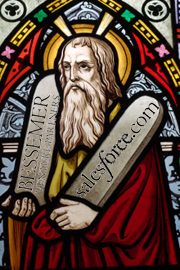 Software as a Service (SaaS) market leader and service provider Salesforce.com recently hosted a presentation by Bessemer Venture Partners, which has funded many of my favorite SaaS enterprises, including LinkedIn, Postini, Keynote, Eloqua, Skype, Force.com, and PTC.
Since this presentation is locked up in a hard-to-search format, I'm republishing its insights for your enjoyment here, along with links to watch it or download a PDF version.
Bonus Law: You can ignore one of these, but not more than two. Great companies innovate, but they also pick their battles.