1.

Posters and Reproductions of Historic French Patents
Just in time for the holidays, the French Patent Office suggests giving historic patent illustrations. Presented as posters or copies of original applications, these distinctive prints will stand out as unusual gifts for equally distinctive recipients.


2. Broken Sword: A Patent Lawyer Hero for XBox
George Stobbart is a charismatic and somewhat charmingly goofy patent lawyer. (Aren't they all?) He ends up in a plane crash in the Congo, and sets off on adventures with a comical sidekick in this well reviewed game.

3. The Most Innovative, Socially Conscious Laptop Anywhere
Througn November 26, One Laptop Per Child is running a "Give One, Get One" promotion to help scale-up their manufacturing. For $400, you give a laptop to a needy child, and get one for a child (or IP professional) who'd get a kick out of it. They even have a snappy ad with the geekiest cast member from the tv show Heroes.
4.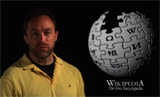 Give Wikipedia to the World
One Laptop Per Child laptops come equipped with language-localized collections of excerpts from Wikipedia. They use this fact as the foundation of a fantastic fundraising video. Wikipedia makes the Internet better; why not encourage their behavior? And if swag is what you want, they have a very large gift shop with customized items.
5. High-Tech Salted Meat: It's the Future


I've waited for months to tell you about Texas Aggie Beef Jerky. It's the tastiest product ever to come from a tech school. Imagine scientists marshalling the latest in genetic engineering, laser-enhanced meat processing, and zero-gravity aging processes. OK, I'm pretty sure that's not how they make this stuff, but they are Texans, and their beef jerky is fantastic. Your purchase will support fine work happening at The Rosenthal Meat Science & Technology Center at Texas A&M.
6. Finally, Peace and Quiet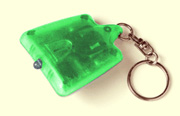 Today, televisions surround us in a surprising number of public spaces. News, sports, and cartoons are played to (or at) us in airports, diners, even doctors' offices.  Having a universal off switch can make all this seem so much less like 1984.  
TV-B-Gone is a universal on/off control small enough to hang on your key chain and discrete enough that you can close down public televisions long enough to get TV out of your intellectual property, making the world seem just a little more peaceful.
Add to the list.
Have you used any of these? Better still, what else would be a good addition to our list?  Please post your responses below, or email them in here.