Boston, my city, is becoming only party of neighborhoods. In the last decade, waves of investment and building have blurred the lines between areas that had been attached to ethnic or racial identities in people's minds. As a 'glass half full' kind of guy, I see such change as mostly to the good. But I grant that all change comes at a cost to those bettered by things as they are. Machiavelli said as much, such is life.
Not long ago, it was more typical to associate Boston's neighborhoods with identity groups: Irish in South Boston and Charlestown, Italians in the North End, Latinx in Jamaica Plain, Blacks in Mattapan, Jews in Brookline after the destruction of Boston's West End.
As Cindi Lauper sang, Money Changes Everything. Buildings that promote 'luxury living' are ushering non-tribal groups to every neighborhood, as the link between place and identity loosens.  I lived in one of the first areas to be changed by the current urban revival of Boston, Boston's gay South End.
Back in the 90's, I rented from a friend who needed an accommodating tenant. Her flat turned out to be in the epicenter of Boston's pride parade. My block on Chandler St. would be stranded as the parade went up and down both sides, and then conclude with 4,000 shirtless men having a dance party the next block over. It was jubilant; gay friends came to visit me for this every year. Though I was never personally a shirtless dancer, I was glad to toast what this tribe created.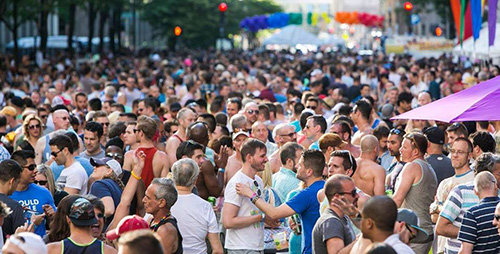 Soon Somerville became known both as gay and lesbian friendly, and affordable as well. Then when Massachusetts established marriage equality, it became clearer that gay people lived everywhere already. They just weren't flying pride flags, or dancing shirtless. The imperative for a gay neighborhood was lowered, Machiavelli or not, surely a change for the better.
In my life, our culture has shifted from a standard of one "normal Norman Rockwell consumer" to a rainbow of sub-identities. Consider the long list of food preferences you can think of, we tolerate the lactose intolerant. The meat and potato, church going, hetro-monogamous 2 kid, white bread families aren't the norm. There is no average man anymore.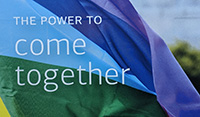 So I was surprised when a friend in healthcare said her organization didn't want their staff carrying a company banner in Boston's Pride Parade this year. They are an accepting workplace, and celebrate pride internally. But they seemed sensitive that could be seen as "Gaywashing", or profiting from a struggle they didn't attend. As the happy straight neighbor of bare-chested revelers, this felt like a huge missed opportunity.
Late or not, the pride these people felt about their workplace was real. Besides, voting present for Pride, even if its done with commercial intent, seems to me to be healing none the less. This parade used to be a protest, now its a broadening acceptance; of course advertisers are going to jump in.
Like Boston's neighborhoods, Pride has been changing too. This year I focused my celebration on the expansion of LGBTQIA+ identities by bringing pride flags from this burgeoning group of identities which coworkers could take for their own festivities. People actually discussed and tested the the difference between Pan-Pride, Bi-Pride, Trans-Pride — and variations of the popular rainbow flag. Some of these flags remain around the office at Connective DX as echoes of that. The specifics of diversity may shift, but the flags are a reminder that we engage and care across differences.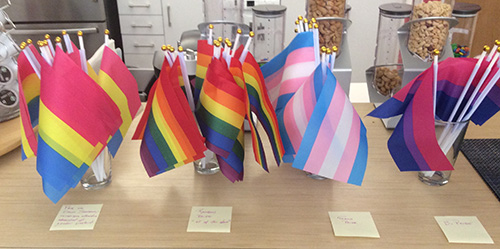 The fact this didn't take a gay colleague to promote was a message. One of the fruits of celebrations may be the chance for people outside the tribe to appreciate and celebrate those inside it. Do this enough, and walls between people get a little shorter.
Other identity groups have their celebrations in Boston. Evacuation Day, is a city holiday celebrating the exit of the British which slyly coincides with St. Patrick's Day. Saint Days in the North End, Black History month are all cultural deposits, that others join in on too.  We have a lot of work still to do on these, especially around racial legacies that still separate neighborhoods today. (see:  Is Boston Racist? / or the Globe's spotlight series.)
But today, right now, it's hard not to see the capacity for progress in one another.
We are not untested in change. Things have improved, that's a good enough reason a parade. And here or not, I hope you join in.
Celebrations don't heal all, but they are how our tribes affirm each other, in a sort of neighborhood-spanning namaste.
Happy Pride Day, y'all.