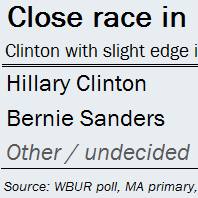 Yesterday's Boston Globe went to press with an article by James Pindell under the headline: Clinton, Sanders tied in new Mass. primary poll.
The reporting was based on polling sponsored by Boston public radio station WBUR, and conducted by public policy research organization Mass Inc. This caught my eye because WBUR had run the same research under the dramatically different headline: In Mass. Clinton Edges Sanders.
I'm in the process of reaching out to both media organizations and the researcher to get some insight on why the results of this work have been interpreted so differently. 
I have some appreciation of the art of framing questions, gaining access to representative samples and weeding out bogus responses — but there's a point at which the art stops and it yields factual results. The results may or may not turn out to be true — but that's because they are at least clear factual findings to test.  But in this case, two news organizations portray different findings.
I'm a Globe subscriber and a WBUR contributor – I have no axe to grind in this case, other than a belief in research as an enterprise which generates clarity and facts.  I expect there is an interesting rationale or rationalization of how two news organizations can read research so differently.  I'd love to hear it, and share it here with whatever learning it might bring.
As a side note, the research also included some interesting ride-along questions about the favorability non-Presidential candidates enjoy. Here in Massachusetts, Governor Charlie Baker has a pretty amazing 78% favorability rating. That's 11% higher than the next closest figure measured by the poll, Pope Francis.  Is it Bakers can-do attitude, or are Bay Staters just pleased not to be burried under eight feet of snow like last year?
Either way, Massachusetts Governors seem to have a hard time finding the right job after leaving office. But these numbers could be encouraging for Baker – after all, there's no MBTA in Vatican City.  Something tells me that once he's done as Governor here, he might want to get about as far away from The T as he can be.