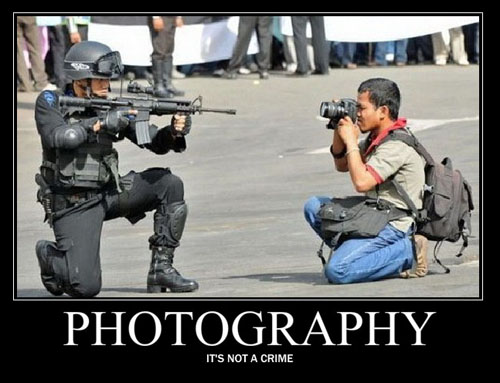 This week the ACLU filed a lawsuit against the Boston Police Department for using "wiretapping" laws to prevent citizens from taking video footage of police arrests.  Some would naively think such laws were passed to protect the people from the authorities, not vice versa. (details in Law.com)
Following Training?
Boston police spokeswoman Elaine Driscoll rejected the notion that police are abusing the law to block citizen oversight, saying the department trains officers about the wiretap law. "If an individual is inappropriately interfering with an arrest that could cause harm to an officer or another individual, an officer's primary responsibility is to ensure the safety of the situation,'' she said.
Boston Globe
A near identical pattern emerged when Jon Surmacz, 34, a webmaster at Boston University, filmed BPD officers breaking up a holiday party in December 2008. Police arrested Surmacz for illegal surveillance.
Since the 1960s, Massachusetts has had laws that protect citizens from being surreptitiously recorded. In this case, the police infer this right extends to public places, and that an arrest should receive the same protections as a private discussion.
This is part of a larger trend in which citizens' impulse to record public events is treated as criminal behavior by law enforcement officials. Blogs such as War on Photography and Photography is Not a Crime pick this theme up.
Boise, Idaho police recently seem to have sodomized a man in their custody with a Taser.  The incident was recorded, and so the facts of this incident were able to be addressed.  Arresting those who record the police absolutely creates a chilling effect, as such recordings may serve a broader public interest.