The Cause Can't Be The Cure
We need to put the Confederate flag away as a sign of state. And we need to find our way through these discussions relying less on race as an organizing concept of cause or cure. 
I believe that war is a tragically ineffective way to end war.  We may better find our way to compassion and justice using the vectors of economics, health, or cultural respect.  
If race is anachronistic, then making it a foundation for progress risks distorting our future with our past. If we really want change, then focusing on race may not be path that takes us to a better place.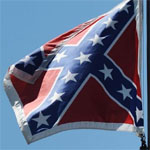 The concept of race is broken
We have other terms: color, ethnicity, nation of origin – but none are as falsely divisive or as mercurially conceptual as race. 
The alternatives that come to mind: color, ethnicity, nation of origin  just don't divide humanity up in to genetic clans, and promote a kind of Eugenic thinking the way race does.
Though, like race, these labels too are more amorphous than comfortably fits with categorical thinking.
Consider the Cauc/Asian
Earlier this year, Gordon C. Nagayama Hall, a professor of psychology and associate director at The Center on Diversity at the University of Oregon, officially changed his racial identity from Asian to White.
Nagayama recognized that Asian-American faculty members were not considered under­represented in his department.  This meant that other racial groups would be the focus of future hiring efforts.  As he had both Caucasian and Asian heritage, Nagayama changed race so other Asians might be actively recruited.
Categorical thinking ain't what it used to be
People who seem to willfully step between categories are likely targets of outrage.  Elizabeth Warren, Jeb Bush, and Rachel Dolezal have all be called to account for stepping between boxes, which let's face it most Americans do every day.  My name is German,  according to records my biological mother who hailed from Oklahoma was half Cherokee, my DNA test disagrees with that, but its supports my adoption record's account of other northern heritage.
We're living in a time in which the boxes used to organize people are broken, and ever  less useful.  The gender queer movement, people who don't identify as an M or an F in gender boxes, are in a different kind of struggle that their gay forerunners.  The insurance and health companies they want change from aren't confronting them in moralistic terms, in fact the managers of these organizations want to respond. It's just that changing the boxes, or living without them, loses a complexity they don't know how to manage.
Diversity is an entirely sound goal. But can we gain it without using the foundation of race, which becomes happily more muddled with each generation? I suspect we can't get to an end goal of justice and civic regard with race continuing as an organizing construct. Race isn't a construct which has not helped us.  As we hopefully shelve the Confederate flag to history, we need to find a better way to build diversity than of a foundation of false division.