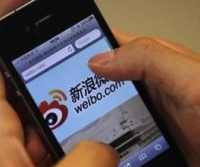 Last year the Facebook IPO was a story that spanned the Spring course I teach in digital business. This year the spanning theme very well may be from China.
Why? Because Alibaba (China's equivalent to Ebay) has grown to an annual revenue of 140 Billion a year, employing 24,000 workers. This means its revenue has already exceeded Ebay and Amazon combined, and doubled. Its a big deal, and its already a weekly subject of focus in our class, which has Chinese students who have friends who work for it.
Alibaba made headlines again as its founder Jack Ma announced it would buy an 18% share of Sina, owner of Weibo. This is the equivalent of early EBay buying a chunk of early Twitter. The deal comes with an option for Alibaba to increase its share to near one-third over time. 
This adds to the standing of Alibaba as the preeminent online IPO candidate in China. Its building its story, forming a key alliance, and raising its profile to potential become a very big story in the second half of the year. And as Weibo and Alibaba head, so too will an ecosystem of digital innovation in China.