A Protest Screws Santorum in Search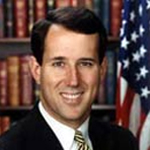 Back in 2003, sex advice columnist and outspoken gay rights activist Dan Savage created a protest site about then-Senator Rick Santorum's anti-gay rights views. The site (spreadingsantorum.com) is based on a sexual neologism proposed by Savage's radio audience, and redefines the now-Presidential candidate's name as "the frothy mixture of lube and fecal matter that is sometimes the by-product of anal sex." Heavens.
Savage admits it's a crass joke, but one intended to sting.  And now, nine years after the site's creation, its causing Santorum real grief, as the protest site has eclipsed even his own campaign page in search results on his surname.
Who Is Responsible When You Don't Like Your Search Results?
Santorum says these negative search results are another sign of liberal media bias, equating Google's refusal to censor the search result as allowing something akin to hate speech. Santorum told Fox News, "If you're a responsible business, you don't let things like that happen in your business that have an impact on the country."
Of course as Danny Sullivan aptly points out, this isn't a "Google" problem. Its a Bing, Yahoo, and Ask problem too. In fact, on Bing, Santorum's official campaign page doesn't even make the first page of search results. To reframe Santorum's complaint, "If  you're a responsible candidate with a team dedicated to electronic marketing, you don't let things like this happen." And you certainly don't make it worse by limiting your own site to just two Flash pages.
Santorum's SEO Suicide
After winning Iowa, the Santorum campaign tried to optimize donations by effectively moving their campaign site, and having all traffic hit a two-page Flash site focused on donations. That kind of content won't draw a lot of links, for a start. And let's face it: a donation form is a lot less remarkable than the attack site SpreadingSantorum.com. The campaign has since shifted back to running a campaign site on Santorum's name, but it's too late.
When the Law Isn't with You.
There's a saying in government: "If the law isn't with you, use public sentiment, and if you don't have that, argue public policy." That's what Santorum is doing here. He's asking Google to fiddle with its results — to allow politics dictate their results. Which, ironically, is just what he initially accused them of doing.
What does Santorum have to say about the fallout from Dan Savage's work? Last year he told Roll Call: "It's one guy. You know who it is. The Internet allows for this type of vulgarity to circulate."
In this, he is fully wrong: If this were just about Dan Savage, SpreadingSantorum would be nowhere near the top of the search results.
SpreadingSantorum is a far older domain that RickSantorum.com; it has been actively updated for years. Senator Santorum should have started a site on his own name in response years ago. The site also has thousands more links from blogs like this, and the media, as this story spreads.
Sadly for the Santorum team, each link, mention, or tweet about posts like this just makes the situation worse. So there, now you can vote, in in the primary but on who you is responsible for Rick Santorum not controlling the top listing on his own name.