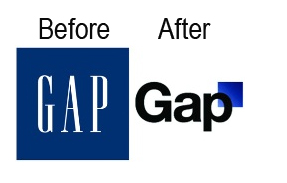 Logo contest firm shows how easy it is to make a better logo
Judging from the fuss on Twitter, a change to a retailer's logo can make a big difference in perception.
Last week, Gap swapped its traditional blue logo with a new Helvetica logo on a white background pictured here. It reminds me of BASF's logo. It is so generic that it looks like it was laser-printed onto template stock in the early '90s.
After outcries from customers, Gap replaced its new logo with the former blue square design.
The scrappy and quick-thinking design contest firm 99 Designs made hay from this situation by challenging site visitors to showcase how they would re-design Gap's logo.  Dozens of designs were submitted, some of which I've pictured below (and seem far better suited to the brand).
I imagine a CMO, an agency, and many PR staffers have been in crisis mode at Gap. Meanwhile, my hat is off to 99 Designs, who turned this self-inflicted crisis into an opportunity to showcase how it can come to the aid of even large and better-known brands.
If you're a small, scrappy business, there's much to admire about a firm that can inject relevant and creative examples of their value into a market conversation.