Last fall I started to worry about this site's performance.  The process of posting and viewing pages was becoming alarmingly slow.  Everyone who works on the site noticed it, and I started to wonder if sometime soon I'd sign on to find a major server crash, and potentially tons of lost data to restore.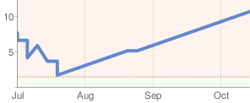 So I used some of the web performance tools I described in my recent post on how Web Performance helps User Experience.  Yslow showed that my server was quickly responding (thanks ISP) but that page content was delayed.  And Google Webmaster Tools showed that my site had dropped gradually from loading a page in a second or two to subjecting visitors to a ten-second delay.
Fearing that gradual slope might extend for ever, I called up a friend in London who is a WordPress whiz.  She took one look at this chart and responded that "The database needs a rebuild — no problem." Exactly one day later, here's what happened.
One Day of Effort Made Useful Arts 80% Faster at Serving Pages


But What If Your Site Is Already Running Well?
Having seen this improvement on my blog, I turned to improving some of the sites I work on professionally.  The good news is that most of them were not facing a long performance decline.  However, by cleaning up bloated code and compressing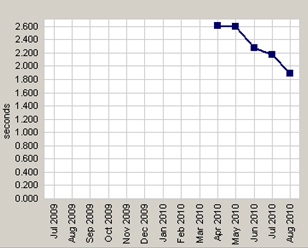 images sizes. I've been able to iteratively improve pretty good sites to be over a half-second faster, which yesterday's post showed was enough to drive business results.
While this wasn't the only improvement to these sites over the last few months, the improvement in site performance did parallel improving conversion rate.
Today when I make the business case to deploy commercial content management systems for the dozens of sites I work with, I always connect improved site performance with revenue maximization.
Along with faster site requisitioning and enabling teams to create more pages faster, the research showing that fast pages convert better helps make the case for digital marketing as a revenue engine. And for technical acumen as a core marketing skill.  And that's why page speed matters.