How to Throw and Catch the Knife of Wit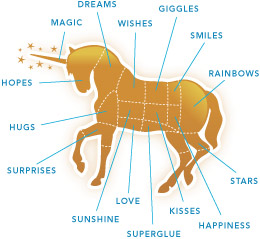 "Unicorns, as we all know, frolic all over the world, pooping rainbows and marshmallows wherever they go."  So begins a send-up product pitch for Unicorn – the new white meat. The illustration on the right shows the parts of the unicorn can rendered into rainbows (or stewed into superglue).
Launched on April 1 by the brainy gift catalog ThinkGeek, the joke provoked a 12-page cease and desist demand by the National Pork Board.  This may have led to an awkward pause at Pork Board HQ when ThinkGeek called to explain that "unicorn meat doesn't really exist." Nonetheless, Pork Board officials insisted that even though the product wasn't real, the infringement was.
With tongue still in cheek, ThinkGeek apologized for creating confusion between pigs and mythical creatures, and quickly offered a discount to bemused readers.
"It was never our intention to cause a national crisis and misguide American citizens regarding the differences between the pig and the unicorn," said Scott Kauffman, President and CEO of Geeknet. "In fact, ThinkGeek's canned unicorn meat is sparkly, a bit red, and not approved by any government entity."

We'd also like to extend a special discount to everyone we offended with our portrayal of Unicorn Meat as "the new white meat." For a limited time, take $10 off any order of $40 or more by using the code PORKBOARD at checkout, good until 6/30/2010 at 11:59PM ET.
Happy shopping and happy Friday, my geeky friends!